By Pete Pistone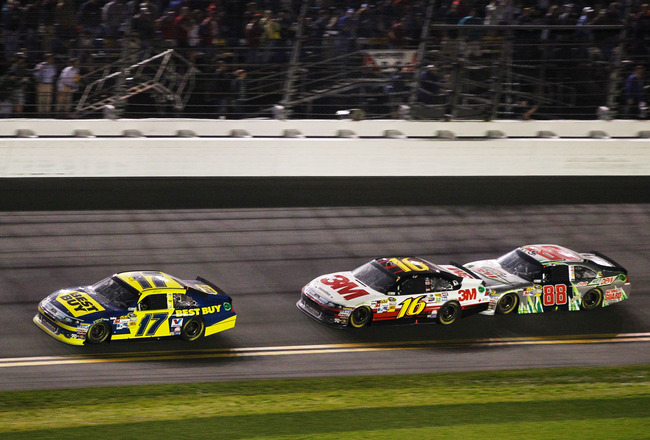 (Biffle has started the year with solid runs in the Daytona 500 and last week at Phoenix - Getty Images)

Greg Biffle vowed to have a much better season in 2012 than he did a year ago. So far he's come through on that promise with a pair of third place finishes to start the season at Daytona and Phoenix.
The Roush Fenway Racing driver shared his expectations for the new year including his relationship with crew chief Matt Puccia when he visited with SIRIUS/XM NASCAR Radio's "The Morning Drive" recently:
There are some people who are not looking for results from you based on your performance from last season – is that fair and how do you respond to that?
When you go back and look at the stat sheet and it says a guy finished sixteenth, well he led 240 laps and a shifter broke with two laps to go and you finish sixteenth, the thing is the stat sheet doesn't say that – all it says is that you finished sixteenth. Take Charlotte, the Coca-Cola 600 I had the thing won, had no one in the rear view mirror and a caution comes out when Jimmie Johnson blew up. And then with extra caution laps we couldn't make it on fuel and so we finished thirteenth. Harvick winds up winning it and he ran like dog all night. That same thing happened all year long…so when you finish thirteen or sixteenth after you've been leading all day, you pit for the last stop of the day and caution comes out you got to take the wave around and start twenty-sixth. That happened all year long but you look at the way the car ran, the performance, the pit stops were pretty good. You look at all that and you say that team has the potential to run good and finish good is what I look at.
Your teammate Carl Edwards lost the championship last year by not winning enough races – what kind of message did that send to you, Matt (Kenseth) and Carl during the off season?
Well we know that our cars simply weren't fast enough and knew our fuel mileage was off some. We're hoping this fuel injection will level the playing field for us because when we got the FR9 engine we lost a little bit of fuel mileage, a little bit of edge. Our competition could beat us by a hair on fuel mileage and it just kept backing us into a corner constantly. Now when a caution comes out periodically or you get off sequence a little here or there all of a sudden fuel mileage isn't an issue. But there's always an underlying, it's like a demon that has its head poked up. And whether it bites you or not just all depends sometimes. So it's just a matter of right place sometimes and that's what I say to critics about how we ran versus Carl versus Matt. Our cars are plenty fast enough – we just got done doing a tire test at Texas – we're super happy with the speed and how it drove. I feel like we're gonna start the season out, we're gonna be really strong those first ten races I think.
Is it imperative – I know everybody wants to but is it important for you to have to get off to a get start this year?
Yes. We have to and I think we will. If we race hard and conservative and don't take any dumb chances. Look at Vegas last year. I feel personally like I had that race won and we ended up five laps down with not a scratch on the car because we couldn't get fuel into it. There's a whole bunch of them. If that doesn't happen this year – we ran good at Phoenix, ran good at Vegas, Martinsville's a demon but you have Fontana there are some good opportunities for us to lay down some solid top fives or get some wins.
What do you do to put a bad day behind you and move on to focus to the next race?
It's always looking at the next race. You can't dwell on what happened in last week's race good or bad. Because the longer you dwell on what happened last week if things don't go well, the more it just drags you down. Take the positive from it. Look at how fast our cars are, how good we ran. There's nothing anyone can do about that other stuff that either went wrong or was out of our control. Otherwise, it will just eat you up so the best thing to do is just let it go.
How is the relationship and chemistry with (crew chief) Matt Puccia?
Matt is great and we really have built a solid relationship that really started to come together last year. He's smart, he communicates very well and the team is behind him every step of the way. That's another reason why I'm so excited about this coming season seeing what he brings to the table and how this team can work together. Like I said, we have some fast cars and great equipment. The team is together all the way and if we can get some breaks, keep the bad luck to a minimum I'm confident we can have a really good season this year.