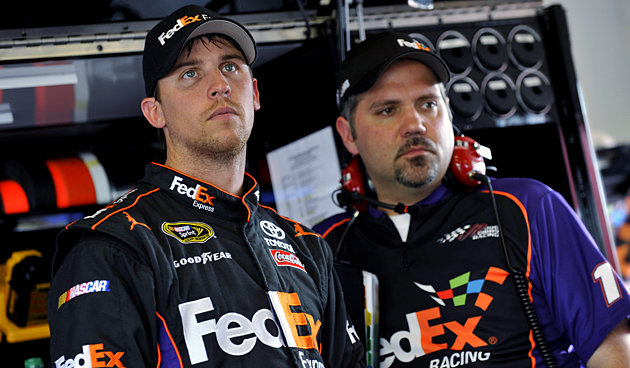 It didn't take long for Darian Grubb (right) to taste success with Denny Hamlin, winning Sunday at Phoenix. (AP)
Did Tony Stewart make a mistake dropping Darian Grubb as crew chief after winning 2011 title?
Pete Pistone
We'll probably never know the whole story of why Stewart decided to make a crew chief change. While Darian Grubb is one of the most talented in the sport, Stewart didn't downgrade by bringing Steve Addington into the fold.
Let's face it, the driver-crew chief role is as much about chemistry and building relationships as it is anything. While Grubb is as adept at setting up a car and calling a race as they come, maybe there was something not clicking exactly the right way between the duo. Addington is equally talented at the nuts and bolts of the job and his personality seems to mirror Stewart's. They've both said many times they are "cut from the same cloth," guys who grew up short track racing and worked their way to the top level of the sport. They share an old school racer's mentality and Stewart appears quite comfortable working with and hanging out with Addington.
Grubb may have already made it into the victory column first and I have no doubt he'll be successful with Hamlin at JGR. But Stewart won't suffer with Addington at the helm and whatever the behind the scenes reasoning might be of his parting ways with Grubb, the bottom line is all about comfort and chemistry. Stewart and Addington have that together and then some.
Brian De Los Santos
In a word -- yes.

Now as the story goes, the decision to part ways with Grubb came prior to the amazing streak they went on en route to the Sprint Cup championship. At the time the call was made in early October, it was probably the right move. For whatever reason, the 2011 regular season was a struggle for the 14 team with Stewart making the Chase by the skin of his teeth. Entering the Chase, I for one, didn't expect Stewart to be much of a factor.

Stewart surprised just about everybody winning the first two races of the Chase. But then a couple subpar races followed that strong start and Stewart decided it just wasn't working out. Thus, entering the second half of the Chase, Grubb was basically a lame duck crew chief. But he soldiered on, and despite the distraction, helped Stewart to victory in three of the final four races and the title. The finale at Homestead was especially a thing of beauty.

Not even five wins in 10 races was enough for Stewart to reconsider. Which seems strange to me. Clearly Grubb proved he could get the job done in the crunch. Can Stewart win with Steve Addington as his crew chief? Probably. But there's something to be said for continuity. After a finishing run that few outside of Chad Knaus-Jimmie Johnson have been able to muster, Stewart may find that cutting Grubb loose may not have been such a good idea, especially if Grubb and his new driver Denny Hamlin continue to knock out wins.