By Pete Pistone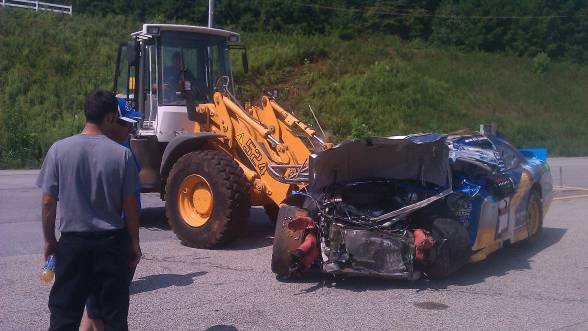 (Keselowski says his testing crash at Road Atlanta last year is another reason why he carries a phone)


Brad Keselowski
says he has a practical reason for having his cellphone with him when he straps into a stock car.
It's not just to have a device capable of tweeting pictures or thoughts to fans. Keselowski maintains there's a safety aspect to have the phone with him.
When Keselowski was involved in a violent crash at Auto Club Speedway a couple years ago, the cellphone was a lifeline to family and friedns concerned for his well being.
A similar scenario presented itself during his testing crash at Road Atlanta last summer and he was able to let him mother know that he was allright before news of teh accident had spread.
"That kind of put the fire out before it really got started and she really appreciated that," Keselowski said. "It put me a lot more at ease. From that moment on, I decided I was going to keep my phone with me in the race car.
"There actually was a practical purpose for having it with me and I designed a pocket to put it inside my car to be able to keep it there. I didn't put it in my car thinking, 'We're going to have a red flag at Daytona for a guy hitting a jet dryer and causing an explosion.'"

Keselowski is aware of those who have concern the smartphone could lead to some form of cheating or for teams to try to get a competitive advantage especially in the new age on electronic fuel injection.

However he's not sure how a driver or crew chief could actually use a phone in such a case.

"You could definitely make an argument that a smartphone is a mini-computer," Keselowski said. "I could definitely see that. But it's not like I had it plugged into anything. You have fuel injection in the cars, but I don't know how you could use it to cheat, quite frankly.
"Unless you mounted it to something to maybe make a video."

For now Keselowski plans to carry the phone with him and continue his heavy involvement on Twitter.

"As an athlete, entertainer, race-car driver, whatever you want to call me, the things I did on Twitter was something I would want to see," Keselowski said. "The people that I follow on Twitter, if you were to ask me what I would want to see from them, that's what I would want to see.
"That's all I did. I don't think any harder than that. I'm glad that people liked it and enjoyed it."