By Pete Pistone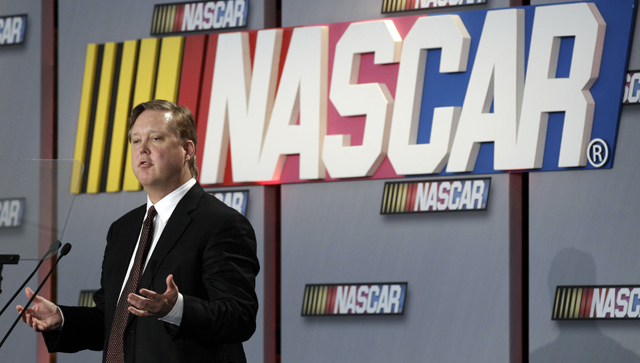 Brian France addresses the media to close out this season's media tour. (AP)
CHARLOTTE - Last year's annual NASCAR "State of the Sport" session that traditionally closes the Sprint Media Tour was loaded with changes and modifications for the 2011 season.
That was a far cry from what took place at this year's presentation.
NASCAR CEO Brian France didn't announce one significant move for the coming campaign and quite frankly that's a good thing.
After a season that saw eighteen different winners, five first time winners, a championship decided by a tiebreaker and some of the best on track competition in several years staying the course was the right thing to do.
"Last year at this event, we announced a number of changes we believed would build interest in story lines and most importantly would make it easier for fans to understand the championship race," France said. "We're very pleased with how all those changes played out."
The decision to not change anything dramatically for the 2012 season doesn't mean NASCAR isn't continuing to look for ways it can improve the sport. France admitted it's an ongoing process but there aren't one or two things the sanctioning body is focusing on at this point.
"Well, I don't know that there's one big thing that we're pointing towards," he said. "What I can tell you is all the things that we're doing that we've announced today and have announced in the past. I can tell you that the industry has never been more united to growing the sport of NASCAR on everyone's behalf. And that's going to be our job."
"Obviously you've heard a lot about digital and social media as an enormously important place. We've reformed our communications efforts to reach more fans. So you're going to see us and the entire industry get more aggressive. You're going to see youth initiatives. You're seeing the fruits of diversity start to be right around the corner. That will really advance us if we can get a breakthrough, which I'm very confident we will, at a national level.

"So there are a lot of things out there that are all going to point to us being able to either grow our audience with a new demographic, whether it be a younger demographic or more diverse. We're doing the things that we think you have to do to put yourself in a position to grow in the future, even though when I say grow in the future, it is a very, very difficult landscape for any sports property to build on. It's just very competitive."
There were a few news items sprinkled through the session including a private test to be held at Homestead-Miami Speedway next week for the four current manufacturers to shake down their 2013 Sprint Cup models. Ford released its new Fusion earlier this week, the first in what is expected to be a series of unveilings from Dodge, Chevrolet and Toyota of cars that bear a much closer resemblance to their street version counterparts than the current Cup car.
Although the testing ban will remain in effect banning teams from tuning up at NASCAR-sanctioned tracks, teams will get one day sessions at Kansas Speedway, Pocono Raceway and Michigan International Speedway to prepare on those speedways' new pavement as was done last year at Phoenix.
France did address the earlier news of the week regarding NASCAR no longer fining drivers "secretly" with all such penalties now to be made public. However he made no bones about the sanctioning body's stance to protect its credibility should drivers step over the line in NASCAR's view.
"If you challenge the integrity of the sport, we're going to deal with that," France said. "You know, we have to deal with that. And I think what's really interesting is I can't tell you how many owners or drivers come up to me and say thanks for doing that because some of these comments were irresponsible and unhelpful to growing the sport.
"Now, having said that, we give the entire industry an unprecedented amount of -- we're not talking about who's critical of NASCAR. You can be critical of things you don't think we're doing well, in particular a race call. You can say I don't think I was speeding; I disagree with that. We understand that. It's when you go after the integrity of the sport is where we will step in, and they will be public."
So the NASCAR you saw in 2011 will be pretty much the same this year. France won't rule out any more tweaks as the season rolls on but overall the sport's head is happy with the way things are going after the changes made twelve months ago.
"….You're right, the format, the wild card, the points, simplification of that, the feedback on that from our fans, the media and others, all of that was right on point," France said. "So we're pretty pleased with where things are in general."